July and August in Japan means kakigori (flavoured shaved ice), summer festivals and--perhaps best of all--hanabi (fireworks). Most summer festivals close out the evening with a fireworks display. It is definitely a defining experience during a stay in Japan to attend one of these festivals in yukata (summer kimono) and enjoy balmy nights filled with fun, food and fire(works). So this week, fireworks festivals make my Tops Tuesday post.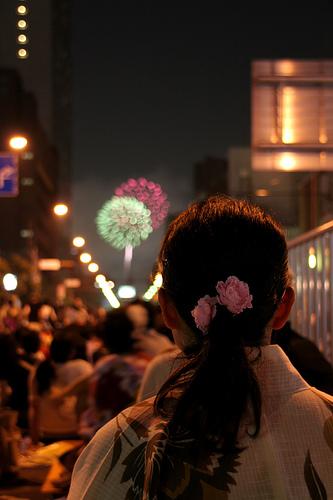 It is said that fireworks displays were once held in Japan on days of remembrance for the dead as a way of celebrating life. During the Edo period, fireworks were something that people of all economic classes could enjoy, promoting unity in the national psyche. Now, fireworks in Japan can be enjoyed by all walks of life.
One of the best fireworks displays in Shizuoka (if not Japan) occurs at the beach-side resort town, Atami. This Sunday, 5,000 fireworks will be launched to create one of the most spectacular displays in the area. Click the image below for more information (Japanese only)...
Here is another great website for locating fireworks festivals in your local area: http://hanabi.walkerplus.com/. This website has listings by prefecture, making it easy for you to find local events which include fireworks. Unfortunately it is Japanese only, but not too difficult to navigate for a Japanese-language novice.